Per­cep­tion is real­ity, and what peo­ple think is true is true for them. This means your first impres­sion may be the only oppor­tu­nity you have to get in the door and mar­ket your­self. If you do not look and act the part, you will not get past the gatekeeper!
In today's fast-paced world where many peo­ple think social inter­ac­tion is a series of text mes­sages, eti­quette still matters–especially when it comes time to get a mean­ing­ful job that can lead to a good career! This is much more than just "good man­ners." You need the skills and con­fi­dence to be able to han­dle your­self with grace and style in any sit­u­a­tion and dis­tin­guish your­self from your peers—and competitors!
Join me for an inter­ac­tive, power-packed work­shop Build­ing an Excep­tional Pro­fes­sional Image.
You will leave with tools for cre­at­ing a pol­ished, pro­fes­sional image in 3 impor­tant areas:

1.  First Impres­sions
Appear­ance

Dress for Success
2.  Pres­ence
Be Well-Groomed

&

Have Good Hygiene
Body Lan­guage

3.  Man­ners
Din­ing Eti­quette 101

Man­ners at Busi­ness Functions

Busi­ness Com­mu­ni­ca­tion

This 60 minute work­shop is based on my chap­ter in the book "The Power of Civil­ity" in which I dis­cuss six keys to Build­ing an Excep­tional Pro­fes­sional Image.

Join me
Date: Novem­ber 2, 2012
Time: 2:00pm — 3:00pm
Includes:
 

PDF

of Jules' chap­ter in the book The Power of Civility
 15 minute One-to-one fol­low via Skype
 Access to our face­book group "Mind­ing your P's

&

Q's" where you will receive addi­tional eti­quette guidance.
Your invest­ment: $17.00
You are your own brand. You have to mar­ket your­self and present your­self as a wor­thy invest­ment for poten­tial employ­ers or clients.
**********************************************

About the Pre­sen­ter, Jules Hirst: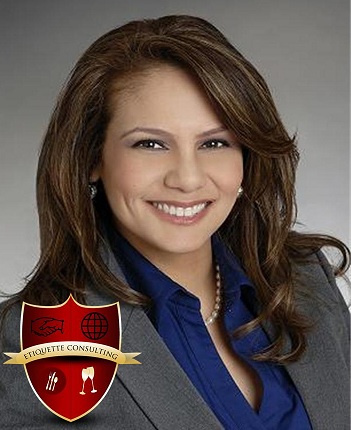 Jules Hirst is a sought after speaker and co-author of  Power of Civil­ity.  She con­ducts lec­tures, work­shops, sem­i­nars and webi­nars specif­i­cally designed to ele­vate the lives and posi­tions of  Youth's, Teens, Col­lege Stu­dents and Busi­ness Professionals
Jules has been inter­viewed by and quoted in a vari­ety of media includ­ing ABC World News,  NBC Nightly News, San Diego Tri­bune, Yahoo Shine, The Smart Show and Tech Goes Strong.