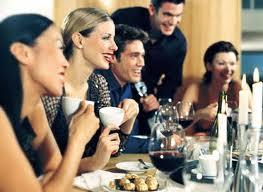 Sum­mer is filled with fam­ily din­ners, wed­dings, grad­u­a­tions and bbqs.  Do you find your­self still ask­ing, "Which is my bread plate?" or "Which fork do I use?"If you answered yes to either of these ques­tions, don't worry, you can pol­ish your din­ing skills by attend­ing "Mas­ter­ing Your Table Manners."
This course will teach you the rules of appro­pri­ate social and din­ing etiquette.
Mas­ter­ing Your Table Man­ners is a 90 minute course that gives you the con­fi­dence to Mas­ter that next din­ner party.
Here are a few of the top­ics that will be covered:
¨Appro­pri­ate table conversation
¨Nap­kin Use
¨Amer­i­can vs. Con­ti­nen­tal Styles
¨Din­ing Do's and Don'ts
¨Dif­fi­cult to eat foods
¨Dis­tress­ing Meal­time Moments
Date: June 21, 2012
Time: 6:30 – 8:30 PM
Net­work­ing & refresh­ments 6:30 – 6:50
Work­shop begins 7:00
Loca­tion: Checa Chic Bou­tique
3004 Lin­coln Boule­vard Santa Mon­ica, CA 90405
Your Invest­ment: $25.00