Man­ners are a lost art in today's soci­ety because chil­dren are spend­ing more and more time in front of their tele­vi­sions and their com­put­ers and los­ing out on social inter­ac­tion. What these teens do not know is that good man­ners are a skill that can pro­vide an advan­tage in the busi­ness world as well as in their daily life.
We meet every Mon­day for 2weeks
Some of the top­ics cov­ered in social eti­quette include:
Pre­sen­ta­tion Skills
First Impressions/Appearance
Body lan­guage
Intro­duc­tions and handshakes
Please, Thank You and Excuse Me
Tele­phone skills
Thank you notes
Some of the top­ics cov­ered in Din­ing Eti­quette include:
For­mal table settings
Pos­ture at the table
Proper table talk
Menus and order­ing meals
Nap­kins
Dif­fi­cult to eat foods
Din­ing do's and don'ts
This two week class meets every Mon­day begin­ning August 13th.  The last ses­sion will be held at a local restau­rant where the stu­dents can prac­tice every­thing they have learned while enjoy­ing a hosted lunch.  Classes are inter­ac­tive and are taught using role-playing exer­cises. Stu­dents will receive a hand­book con­tain­ing the lessons for the course that they may keep and use to help rein­force the proper social behav­ior, self-respect and self-confidence that they will take away from the class – while hav­ing fun & mak­ing new friends.
Dates:  Mon­day August 13, 2012
               Mon­day August 20, 2012
 Time:  3:00 – 4:30pm (14–17) Age
Ages: 14–17

Loca­tion: Checa Chic Bou­tique 3004 Lin­coln Blvd Santa Mon­ica, CA 90405
Your Invest­ment: $140.00 per stu­dent, $120.00 for sib­lings.  To book sib­lings and receive the dis­count, send an email request­ing the dis­count.  Do not pur­chase through Eventbrite.

Lim­ited to 10 students
****last class will be held at a restau­rant details will be given at the first class
About the Pre­sen­ter, Jules Hirst: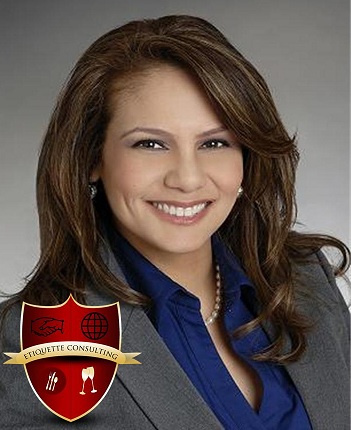 Eti­quette Expert Jules Hirst pres­i­dent of Eti­quette Con­sult­ing, Inc. She offers work­shops on a vari­ety of busi­ness, social and din­ing eti­quette top­ics and is a con­tribut­ing author of The Power of Civil­ity. Jules has been inter­viewed by and quoted in a vari­ety of media includ­ing NBC Nightly News, San Diego Tri­bune, Yahoo Shine, The Smart Show and Women's Online Mag­a­zine. Visit her webiste @ www.juleshirst.com. Tweet her @Etiquette411<